If you are looking for an epic hiking adventure in Virginia, look no further than the Three Ridges hike. This challenging two-day loop offers beautiful views and plenty of opportunities to test your endurance. And it's only two hours from Richmond VA!
The hike can be started from either end and takes you up and over Three Ridges – hence the name! Make sure to pack plenty of food and water, and be prepared for a strenuous journey. Are you ready to explore the Three Ridges wilderness?!?
One Of My Favorite All-Time Hikes!
Three Ridges hike is commonly known as a lollipop loop. You may enter the main trail at either end by walking on the AT from the north or south. The wonderfully lush and beautiful Mau-Har Trail completes the loop.
The more traveled approach is via the northern entrance, at Reeds Gap. There is a decent amount of parking along the road. But if you're going in the summer after 10 am, you should still be sure to grab the first open parking spot you see. Because they go quicker then.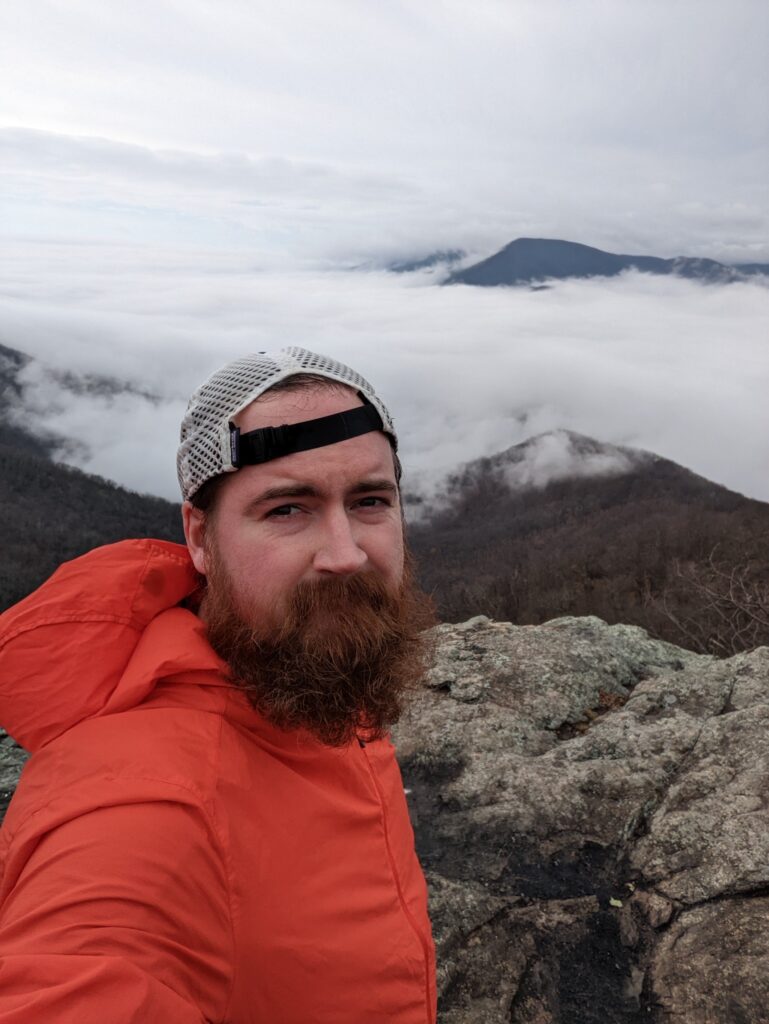 The southern entrance, via Route 56 has an actual parking lot and also fills up pretty quickly in the warmer months. But this lot is also used to hike Spy Rock and The Priest, so keep that spot in mind for future hikes.
The entire loop runs a little over 14 miles and has two Appalachian Trail shelters, plenty of camping, and a bunch of beautiful views.
My Favorite Way To Do The Three Ridges Hike
I've been out there probably 10 times or more, sometimes hiking and sometimes trail running it. And sometimes I'll simply jump on the trail for a quick campsite for the night, then move on to another spot for sunrise the next morning, aka Humpback Rocks. But I'll save that for another post.
I'll often find myself venturing out to the Blue Ridge Parkway after work on a Friday. Depending on the season, I'll try to catch the sunset at Raven's Roost. Then, I will make my way further south on the parkway to Three Ridges. I'll park at the Reeds Gap entrance and hike about a mile onto the trail.
It's a decent climb but there's a nice campsite there where I normally set up camp. But if it's full or windy, I'll hike a little bit more to try and hit a 2nd campsite. But the Maupin Field Shelter is about two miles in and it normally has a bunch of camping around it. So it's a safe spot to aim for, and not too far onto the trail.
I typically don't stay in the shelter during my weekend trips to make sure thru-hikers can have the space if needed.
Then I'll normally hike the remaining 12 miles the next day. Going up Three Ridges, scoping out the beautiful views, grabbing lunch at Harper's Creek Shelter mid-way through the day, then finishing up the loop with the Mar-Har trail bringing me back to the Maupin Field Shelter and then my car.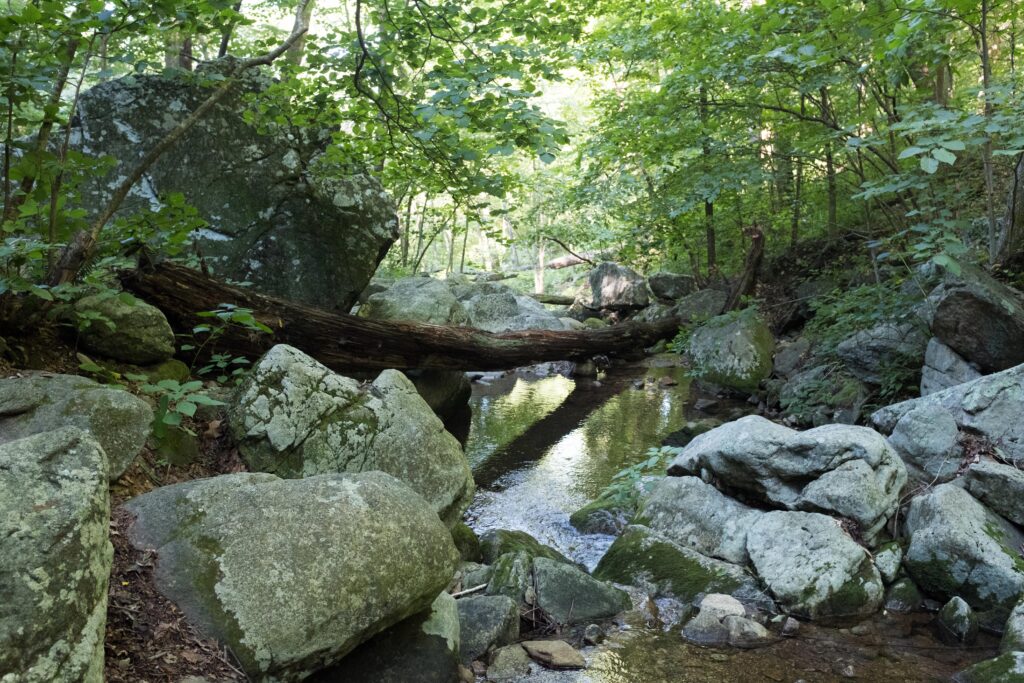 But this can easily be further broken up. Maybe you can hike 6ish miles and stay the night at Harper's Creek Shelter then finish up on Sunday.
That's one of the perks of the Three Ridge Hike, its flexibility.
If you're looking for more of a turn-by-turn for the hike. I really like Hiking Upward's guide. I use them for most of my hikes, especially ones I'm not really all that familiar with.
FREEZE-DRIED ICE CREAM SANDWICHES
A few years ago I went out there with a couple of friends for my birthday. One of the guys ended up not feeling well so we scrapped doing the whole loop, shortened it, and just hiked down the Mau-Har Trail to Harper's Creek Shelter for the night.
While at the shelter we grabbed a nearby campsite, set up a nice fire, took a quick swim in the creek, hung out with another hiker, and even had freeze-dried ice cream as a birthday celebration for me! My buddies even brought sparklers and shoved them in the sandwiches. Took me a few minutes to even realize what was being handed to me. Although I can say freeze-dried ice cream isn't quite my favorite, it is the thought that counts!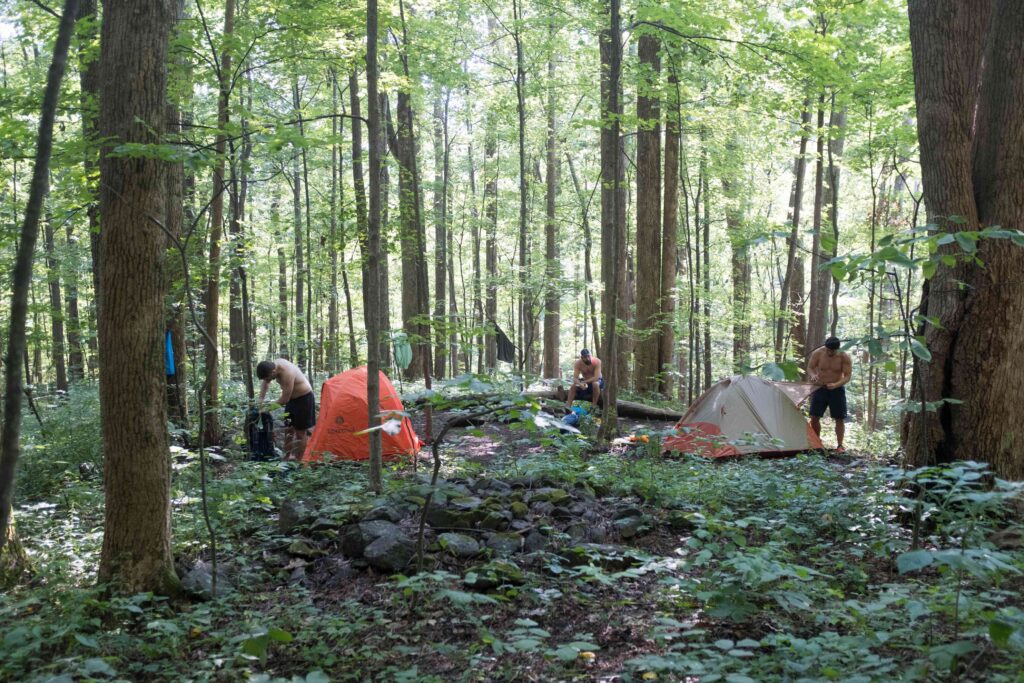 SWEET PEA & HER BLT'S
Also, insider tip.
If you're not in a hurry to get there, take Route 250 West instead of 64 and stop by D'Amore's Food Market in Louisa. The earlier the better, because they normally cut the bacon straight from the slab and it's sooo good when super fresh. But also cross your fingers that Sweet Pea is working that day.
She'll keep you entertained while waiting for your food to cook. She's a character.
I normally grab two and eat them on the way. Love those things…So good!!!