Hiking in hot weather can be challenging, but it can also be a great opportunity to get some exercise and enjoy the outdoors during the middle of the year. Here are six tips to help you make the most of it:
Tips To Help You When Hiking In Hot Weather
1) Plan Ahead
If you're not already out on the trails and looking to plan ahead of time. Try to pick a trail that's a little more covered in shade. Instead of wide open, dry spaces.
If you're on the East Coast, a lot of the Appalachian Trail is known as the "Green Tunnel," because a lot of the trail is enclosed by tree cover. This offers a lot of shade and protection.
2) Check The Weather
Checking the weather forecast in advance is key when hiking in hot weather. Make sure to give yourself a realistic idea of what to expect temperature-wise so you can dress, pack & prepare appropriately.
If you have AllTrails Pro service you can use their Weather feature for real-time satellite and radar weather data. Or of course, just use your local weather service or favorite random free app.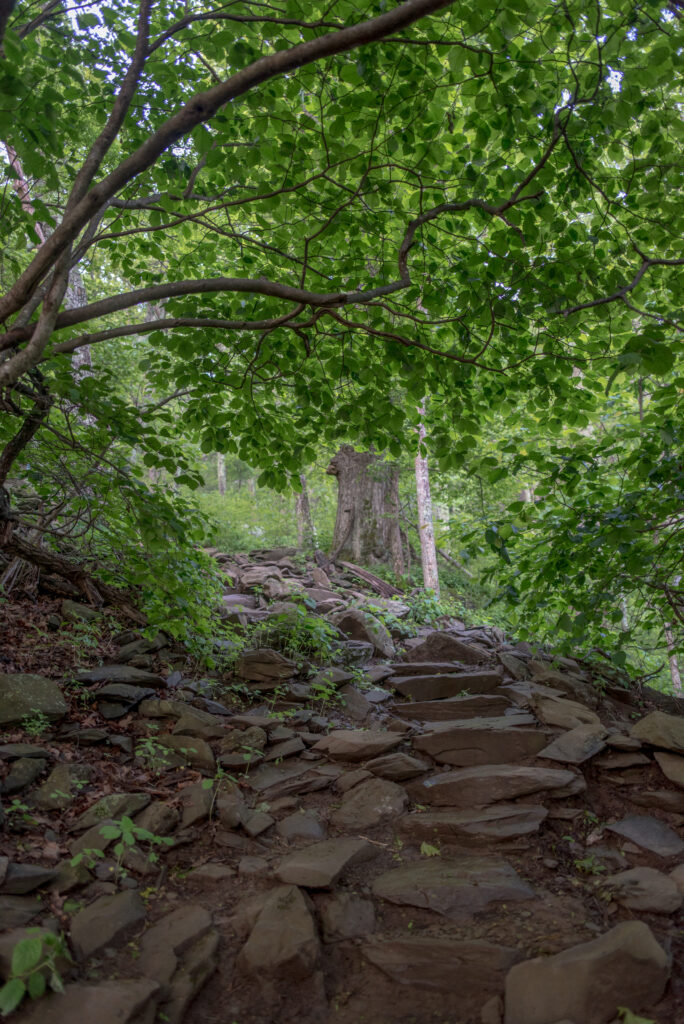 3) Know The Signs
Know the signs of dehydration and heat exhaustion. These can be very dangerous when out hiking in the heat, especially if you are by yourself.
According to Cleveland Clinic, common symptoms of dehydration may be headache, tiredness (fatigue), dizziness, dry mouth and/or a dry cough, flushed (red), swollen feet, muscle cramps, dark-colored urine, and more.
While heat exhaustion can include: (also per Cleveland Clinic)
Dizziness, light-headedness, blurred vision and headache.
Fever, usually over 100 degrees Fahrenheit. Normal body temperature is 98 F.
Fatigue, weakness or fainting
Nausea and vomiting.
Rapid, shallow breaths.
Severe or excessive sweating and cold, clammy (damp) skin.
Swollen ankles or swelling in the feet and hands (heat edema).
Weak, fast heartbeat and low blood pressure when you stand up
4) Wear Light & Breathable Clothing
Wear light, breathable clothing that will help you stay cool and comfortable while hiking. Items that are made with synthetic fibers help with this by wicking sweat away from the skin to keep you dry.
I typically wear running clothes, like Patagonia's Pro Strider 7-inch shorts and a random polyester shirt along with polyester-based socks. Polyester is a pretty common synthetic fiber. Others include nylon, spandex, and polypropylene.
Couldn't decide if I should make this it's on a section or not, but also, wear a hat. Besides the obvious reasons like face shade and keeping the sun out of your eyes. Hats can also help with keeping sweat out of your eyes.
I, again, use running stuff here. Most running hats have a built-in sweat liner and are generally very breathable. Great for hot weather hiking.
5) Start Early
Pretty much a given here. But the earlier you start, the more mileage you can cover before the worst heat kicks in in the afternoon.
Getting to the trailhead early in the day also gives you the added benefit of grabbing a good parking space. Or on some more popular trails, simply getting a parking space. And not having to backtrack to find some little pull-off, that possibly might result in your car getting towed.
6) Hydrate, Hydrate, Hydrate!
According to REI, you should be drinking about "one half-liter of water per hour of moderate activity in moderate temperatures." Or a 1 liter for every two hours.
Covering two miles an hour is a pretty good estimate that I use when calculating how much water I should bring. You may go faster or slower, but that's a pretty good baseline.
So if you're going out for a 6-mile hike, that's approximately a 3-hour trip before breaks/lunch/creek swimming/view viewing/etc. A good recommendation would be to bring 1.5 liters of water. It can be carried in a hydration bladder, or a few water bottles.
Sometimes I'll even bring my Sawyer water filtration system out on short hikes if it's going to be really hot, in case I end up short on water. That way if I come across a creek or shelter on the Appalachian Trail, I can refill water right there.
Electrolytes
These little guys can help save your life on hot hikes. Especially towards the end when you're dragging, feel like you need a pick-me-up, and/or are feeling the effects of dehydration.
I like brands such as Liquid IV, Ultima, and LMNT. NUUN is another popular one, but I like the flavors of Liquid IV and Ultima more so than NUUN's. Plus the convenience of the smaller, easy-to-trash packaging makes it easier for hiking.
7) Take Plenty Of Breaks
Taking breaks during hot weather hiking is essential. Besides giving your body a breather, this can also be used as a chance to hydrate or make that electrolyte drink.
See a nice rock in the shade that looks like a seat? Or a little patch of grass under a tree that's the perfect space to lay down. Take advantage of it.
Or even if you come across a random possibly abandoned open-bed trailer near a lovely babbling brook. Take advantage of it. (PS: It was a wonderful little nap)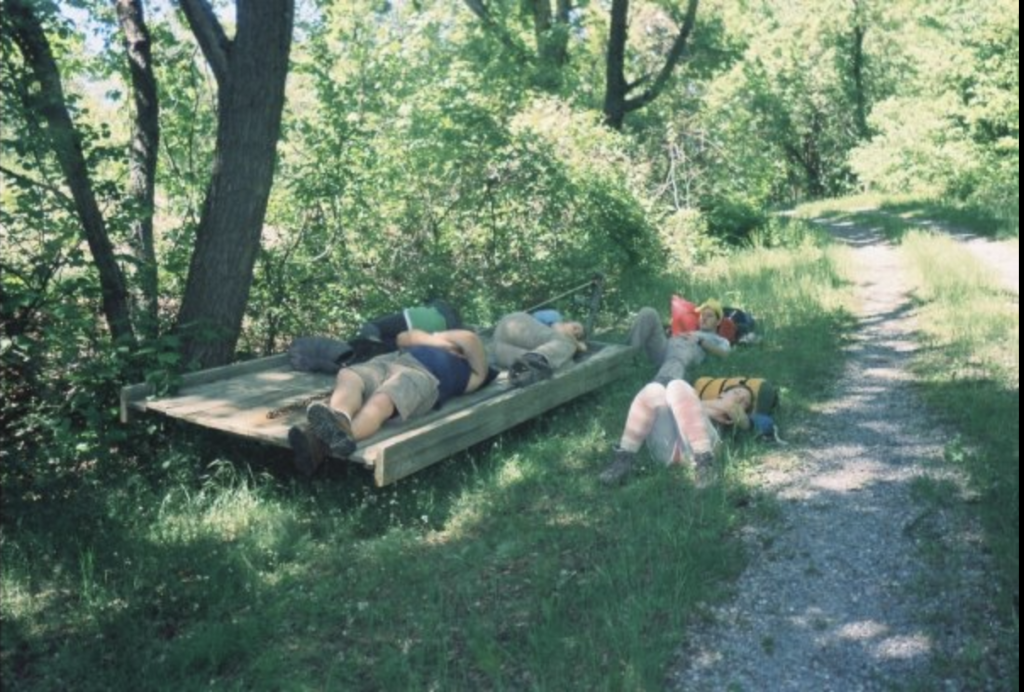 8) Don't Forget The Sunscreen
A simple tip to finish off the list. But don't forget that sunscreen!