When you're out on a hike, the last thing you want to worry about is your camera. You need to be able to take pictures of the amazing views without having to worry about your equipment. Here, I will jump into some of the best ways to carry a camera while hiking. We will look at different bags and straps that are available, and help you choose the best option for your needs!
**Some of these links lead to Amazon, where if the product is purchased, I'll make a small commission. Thank you for the support!**
Why You Want A Specific Carrying Solution For Your Camera While Hiking
After spending hundreds or thousands on all of your camera gear, you want to be as protective as possible with the gear out in the field. Especially out hiking in the elements.
Photography-specific carrying solutions can help prevents breaks, cracks, and even water damage to those much-loved camera bodies and lenses.
Depending on the solution you chose, it can also help make your camera easier to grab when it's picture time. Whether it's strapped to your chest or in an easy-access backpack department, this could make it well worth an investment.
Hiking Camera Bags
If you're up for purchasing a whole new backpack specifically to carry your camera gear and hiking you can start looking at brands like ThinkTank, Moment, & Lowepro.
They can be a little expensive, but your gear will be better protected than simply using your normal hiking backpack.
Some use a modular setup. Meaning you can pick and choose the size, amount of protection, or layout of the specific container protecting your camera setup within the bag itself.
Bag Add-Ons & Accessories
Looking to add to your current hiking bag instead of purchasing a whole new one?
Peak Design makes a pretty cool device called the Capture camera clip. This lets you clip your camera to one of your backpack straps so the camera can be easily grabbed for that next picture.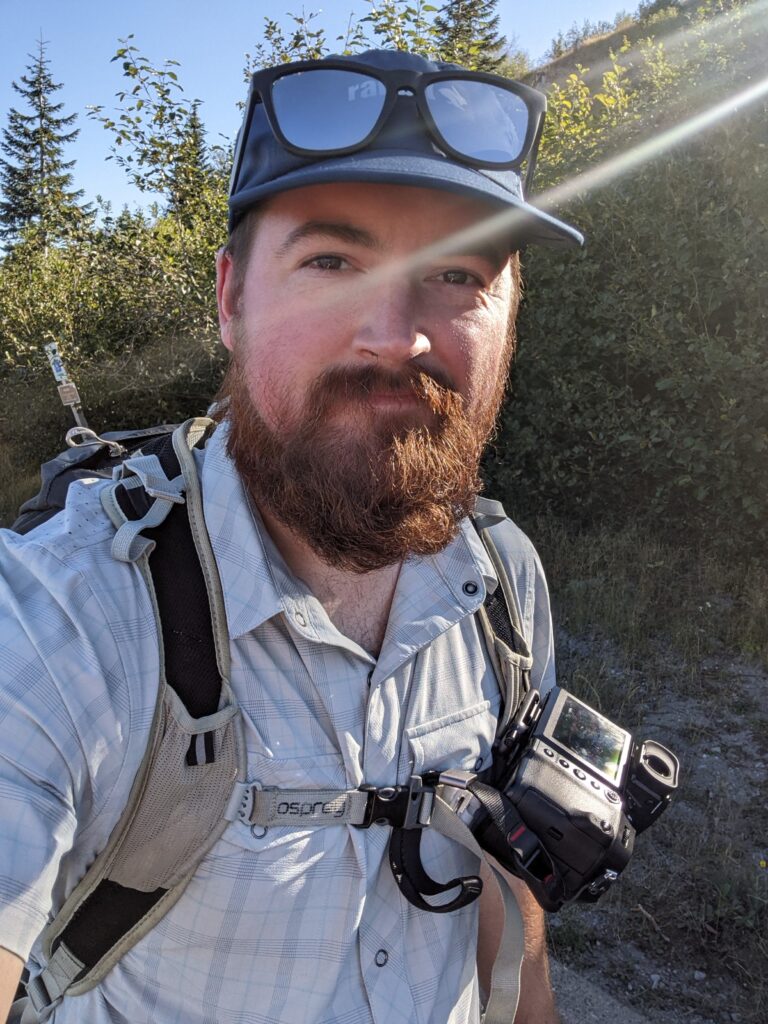 The tradeoff though, is that by making your camera quick grab you're exposing it to the elements and making it more susceptible to fall damage.
Another method allowing you to keep your normal hiking bag would be to get a Hyperlite Mountain Gear Camera Pod. It attaches to your backpack straps and rests on your chest.
This would allow for quick access while also giving your camera setup protection from the weather. The bag itself doesn't offer much fall protection though.
The Hyperlite Mountain Gear Camera Pod comes in two sizes, regular and large. The regular size fits smaller mirrorless cameras and point-and-shoot cameras like the Sony α6000 series, Canon EOS M6, & Sony RX100.
The large fits most professional mirrorless and DSLR cameras with a medium zoom or kit lens. Such as Sony A7 Series, Canon EOS Series, or the Nikon Z Series.
For larger cameras or just another route, check out ThinkTank's holster series.
Camera Straps While Hiking
I wouldn't say you need expensive straps for hiking if that's the path you want to go down. The basic strap that came with your camera would work. Primarily because you would still need to wear it around your neck and hanging from your chest.
I typically like to have my strap slung off to the side. But when you're hiking, the backpack will prevent that from happening. Peak Design Slide or Slide Lite are great upgrades to the stock strap if you were looking to upgrade.
What If You Don't Want Or Can't Afford One Of These Pieces Of Gear
You can simply store your camera in a normal hiking bag, using some extra clothing or a jacket to act as a cushion from fall protection.
Yes, when you want to take pictures, you'll have to unpack it and hand carry or neck strap it as needed, but you'll be saving yourself some dough.
It all comes down to your preference and how much, or little you are looking to spend.