I have lived in or around Richmond VA for most of my life, and while we have a great trail system around the James River, every once in a while I get an itch to do something more. That something more would be a weekend trip to the mountains (although I'll occasionally venture out for a week or more, we'll keep this to the shorter trips)
Typically, I limit my weekend mountain trips to around a 2-hour drive, but occasionally, I extend it to a 3-hour journey if I really want to mix some magic into the mix. So, for this article most of what I mention with be around the 2-hour mark, with a few under and 1 over. But all that out of the way, here are the top 5 spots for the best hiking near Richmond, VA!
1) Three Ridges
Three Ridges is known as a lollipop loop. You can enter the main loop by hiking in on the Appalachian Trail from either the north or south end of the trail. The Appalachian Trail is the 'stick' of the lolli-pop while the Three Ridges Trail and Mau-Har Trail return to make the actual lollipop.
The northern entrance is the more popular entry spot. It has a decent-sized parking area. But be sure to grab the first empty spot you see if you're hiking in the summer after 10 am.
The southern entrance has a smaller parking lot and also fills up pretty quickly in the warmer months.
Getting to Three Ridges from Richmond can take longer than 2 hours, depending on the route taken. If you take the relaxing drive down the Blue Ridge Parkway, it might push you over the two-hour mark. But it'll be well worth it. You can also stop by Raven's Roost and one of the many other beautiful lookout spots.
2) Old Rag
Here's another one that hovers right around the 2-hour mark. Old Rag. A classic.
It's about a 9-mile hike that can get pretty busy and for good reason. It starts with your everyday lovely walk on the trails. But then it turns into a really fun rock scramble.
That can be pretty challenging at times. On nice days, expect to share the trail with a good amount of people. There may even be a few spots with a line as traversing certain spots may cause a bottleneck with hikers.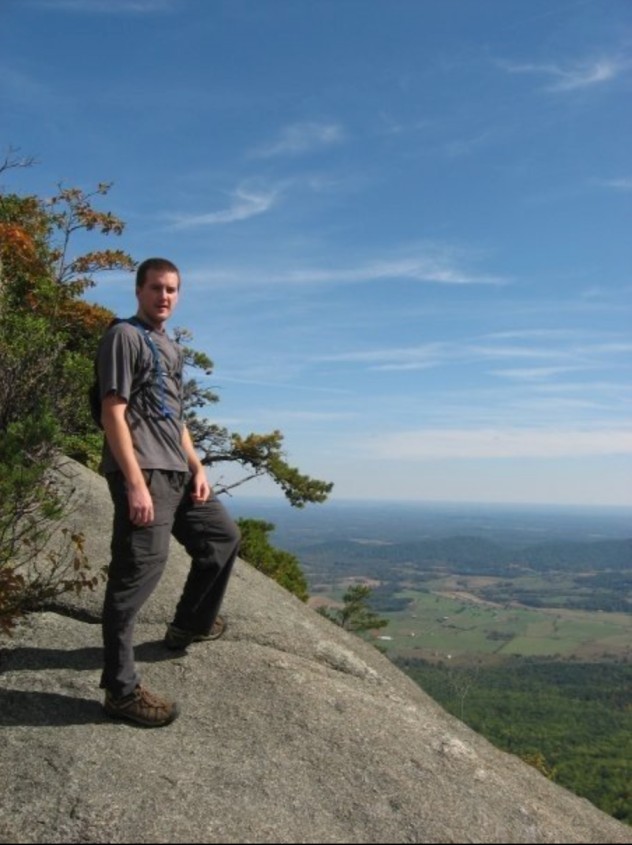 Even with the crowds, it's still a must-do hike for VA residents or visitors, just try to go in the off-season or get there early.
And now there is a ticket system in place due to its popularity. Check out the official website for more details.
3) Mount Pleasant
A 6 or so mile loop hike, perfect for day trips. This hike has 2 summits with beautiful views. With a few campsites near the summits. Just watch the wind up there if camping, it can get pretty brutal during the off-season.
Once you get to the top, Mount Pleasant East is the view to the left. And Mount Pleasant West to the right. Both are pretty close to each other and not far off the trail. To see the views at Mount Pleasant West you'll need to scramble up a small boulder. Not too bad, there are plenty of steps.
If interested in making this a bit longer of a trip, you can add in the Appalachian Trail & Hotel Trail loop. That loop is approximately 7.5 miles. Both loops begin and loop back where parking is at Hog Camp Gap.
This loop includes the beautiful views on top of Mt Cole. If you time it right, and camp at or near Cowcamp Gap Shelter, you can catch the sunrise here. Something I highly recommend! Or you can hike it reversed. Stay the night at Mt Cole, watch the sunrise the next morning then do the hike.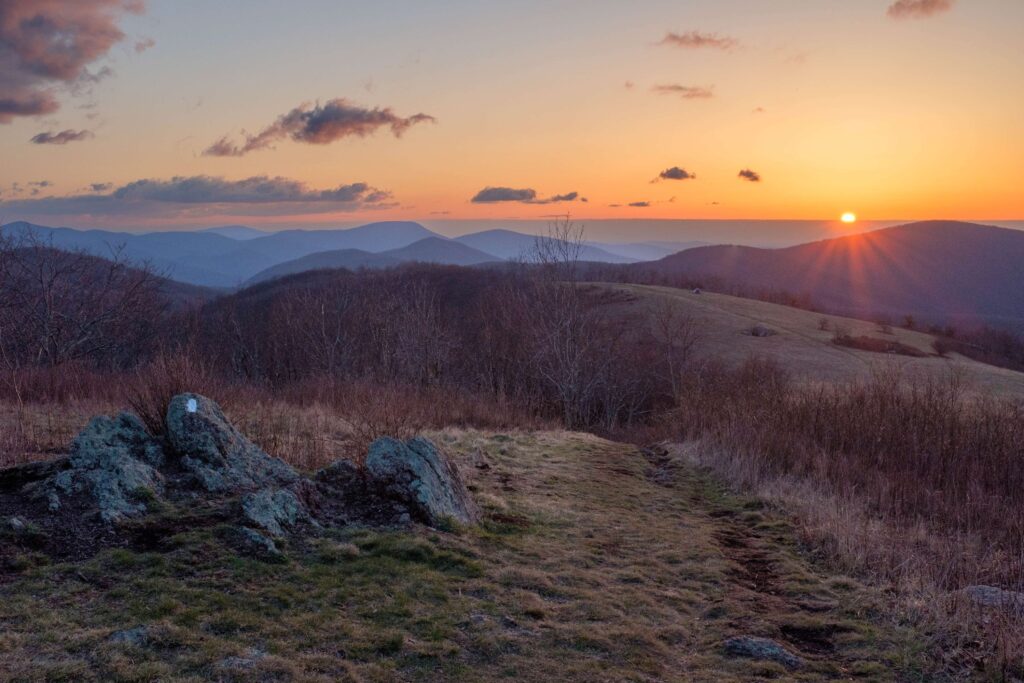 But be cautious on the drive up as the road might be a little rough for standard cars, SUVs or vehicles with higher clearances will be a better bet for you.
4) Humpback Rocks
A short 1 mile, but really intense hike right on the Blue Ridge Parkway near the visitor's center provides some amazing views. Humpback Rocks is perfect for watching a sunrise in the morning or doing a quick sunset hike before going elsewhere to camp for the night.
However, it's also another busy hike. You won't be the only person/party up on the rocks if you go during decent weather. But if you get there early enough, there's plenty of parking. Get there after 10 am and you might have an issue parking.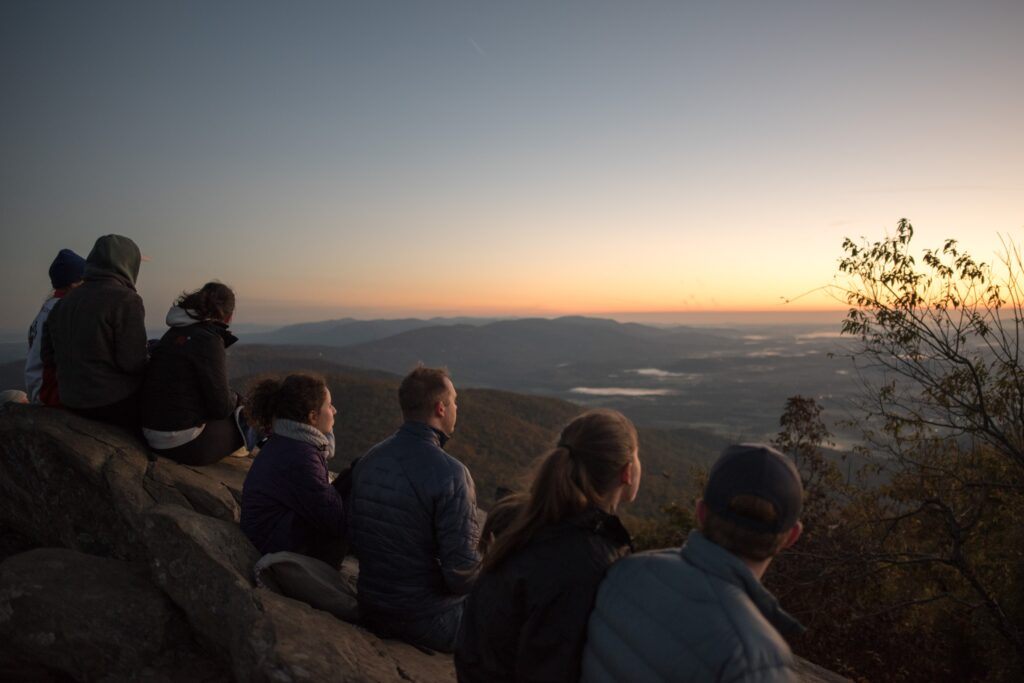 5) Three Falls Hike
Great views and beautiful falls! This hike consists of three waterfalls (hence the name), Rose River Falls, Dark Hallow Falls & Lewis Spring Falls. It can be a little busy, especially at Lewis Spring Falls since it's close to a parking lot.
I like to start at Rose River Falls, and then finish up with Lewis Spring. If you go in the summer, keep an eye out for snakes soaking up the sun on fallen trees at Rose River Falls.
6) McAfee Knob
Another spot that is pretty much a necessity on this list. Although it can also get crowded. I've hiked it a few times, most recently Oct 2021. Got there late afternoon, the parking lot was packed but luckily found a spot on a little road down the street.
The hike itself is about 3.5 miles out and back but I hiked about 1 mile past the knob itself to stay the night at Campbell Shelter. The next morning, woke up early and hiked to the knob for sunrise.
There's a reason this rock outcropping has its own Virginia license plate. It is spectacular, especially when watching the sunrise!
7) Harpers Ferry Hikes
I love visiting the Harpers Ferry area. It's a great little mountain town. Perfect for a relaxing weekend away…or you guessed it, getting some hikes in.
Maryland Heights Hike is just on the other side of the water from the town, Jefferson Rock's hike/view is right in the mix of things, but even more importantly, you've got the Appalachian Trail running right through the middle of town.
You can hop on the AT and hike for miles going North or South.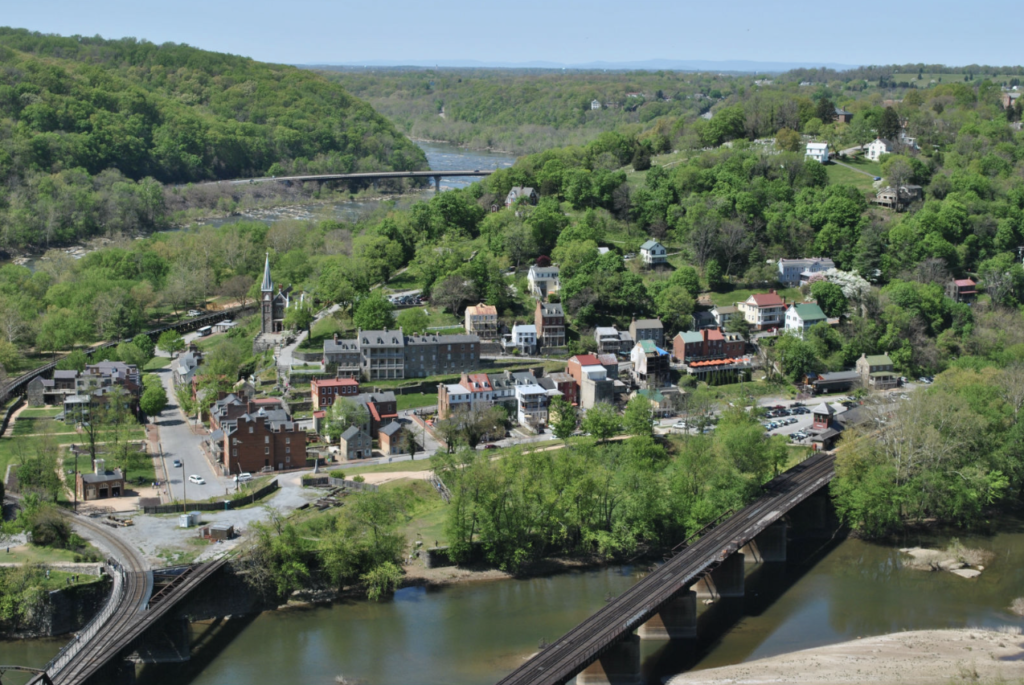 Wrapping Up
That wraps up my thoughts on the best hiking near Richmond VA. If you don't feel like leaving Richmond for hiking check out Best Trails In Richmond VA For Hiking.
---
---
Related Posts
Things To Do In Richmond VA – From A Photographer's Perspective
Last Minute Trip to the Blue Ridge for Sunset
Getting Lost In The Beauty of Western North Carolina